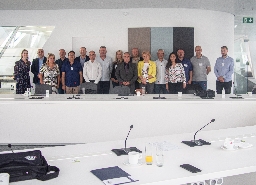 BPI Co. employees upgraded their skills for working on OPTTI projects
27 Октомври 2022
The employees of Bulgarian Ports Infrastructure Company (BPI Co.) increased their knowledge and upgraded their skills for the implementation of projects under the Operational Program on Transport and Transport Infrastructure (OPTTI) for the next programming period (2021 – 2027). The favorite project of BPI Co. employees for conducting specialized trainings to enhance their capacity in relation to the preparation, implementation, management and monitoring of projects under OPTTI has been successfully completed. The high-level lecturers with rich theoretical and practical experience, who presented the various specific and current topics in a clear, accessible and interesting way, made the trainings not only useful, but also very enjoyable.
More than 70 trainings were held on general and specialized topics. Two study visits were also carried out in the city of Antwerp, Belgium. Over 180 employees who have completed the trainings are confident that the knowledge they have acquired will contribute to the more effective and qualitative preparation of important strategic projects for the development of ports in the new programming period. According to them, the trainings carried out outside the work environment are beneficial not only for project work, but also for increasing the overall efficiency of the workplace, as they have enhanced their professional skills and encouraged their creativity.
There are more than 30 topics of the trainings conducted within the project "Specialized trainings for enhancing capacity of the employees of Bulgarian Ports Infrastructure Company (BPI Co.) in the capacity of a beneficiary under OPTTI 2014 – 2020". Among them are "Investment Planning and Attraction of Financial Resources in Ports", "Spatial Planning", "IT and Electronic Data Exchange in Port Operations", "Legal Issues in Port Activities", "Risk Management and Port Safety", "Port Construction", "Logistics Chains", "Public Procurement", "Effective Communication with Project Teams" and "Developing Personal Productivity". As a result, the working environment in the company has improved both on the level of expertise and on the basis of interpersonal communication and team cohesion.