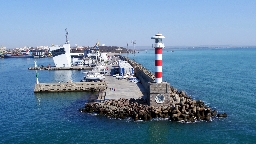 Bulgaria has a representative in the International Harbour Masters' Association
06 Декември 2019
The International Harbour Masters' Association /IHMA/ accepted as a fully-fledged Member the Bulgarian Ports Infrastructure Company /BPI Co./. Thus our country already has a representative in the prestigious World Association, which brings together the harbour masters and institutions responsible for the control of maritime operations in the port.
Safe, secure, efficient and environmentally friendly maritime operations performance in port waters are among the primary responsibilities of IHMA members.
Thanks to its membership, the Bulgarian company will exchange experience with port authorities and institutions from over 50 countries, which, like BPI Co. play a key role in managing their ports.
IHMA has advisory status in the International Maritime Organization /IMO/. The membership of BPI Co. in the association enables the continuous monitoring of the developments in the area of ship traffic management internationally. BPI Co. will actively participate in IHMA's activities to receive support and recommendations for the implementation of legislation in the field.
The news of IHMA membership comes soon as in September this year BPI Co. celebrated the 20th anniversary of the establishment of Vessel Traffic Management and Shipping Information Services in Bulgaria.
Through one of the most modern and high-tech systems, BPI Co. provides comprehensive shipping information services in Bulgarian ports, offers navigation support and presents telecommunication services ship-to-shore and shore-to-ship.