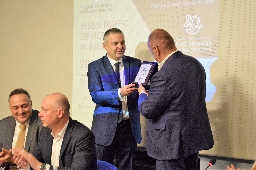 Honorary plaque for Bulgarian Ports Infrastructure Co. for successful management of vessel traffic
17 Септември 2019
The highest recognition in the form of honorary plaque was given to the Director General of Bulgarian Ports Infrastructure Co. Anguel Zabourtov by the Mayor of Varna Municipality on the occasion of 20 Years Vessel Traffic Services in Bulgaria. In the presence of Mayor Ivan Portnih, Minister of Transport, Information Technology and Communications Rosen Zhelyazkov, Regional Governor Stoyan Pasev and dozens of representatives of Bulgarian and foreign organizations in the maritime industry was held an International Conference organized by BPI Co.
Rosen Zhelyazkov stated that Bulgaria is among the four leading countries in Europe in the management of vessel traffic. "All this has been achieved in the sector over the last two decades, through good planning and programming in implementing state-of-the-art information systems", he said. The Minister of Transport, Information Technology and Communications has identified the BPI Co. projects implemented as a good example of efficient e-governance in maritime and river transport.
The Regional Gevernor Stoyan Pasev noted that the Coastal Centre for Vessel Traffic Management and Information Services in Varna is a leap into the future. Pasev commented that thanks to BPI Co, besides beautiful and dynamic developing, the port of Varna is now absolutely safe.
"Twenty years is maturity, we have come out of our teenage years and we are pleased to report excellent results", said the Director General of BPI Co. He wished the position of Harbour Master to be part of BPI Co. on the 25th Anniversary of the Vessel Traffic Services in Bulgaria, following the best practices in the world.
The celebration of 20 years since the establishment of the vessel traffic management and shipping information services in Bulgaria continued with the official opening of the decorative-plastic composition The Anchor and a visit to the VTMIS Coastal Centre – Varna.