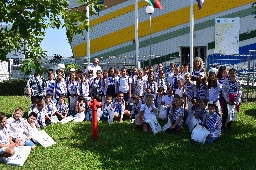 Kids Navigation Day and plenty of smiles gave start to the celebration of the 20th Anniversary of Vessel Traffic Services in Bulgaria
15 Септември 2019
Exciting voyage of students from Varna high school "St. Kliment Ohridski" with the sail training vessel Kaliakra starts celebrating the 20 years Vessel Traffic Services in Bulgaria.
The Kids Navigation Day continued with a visit of the participants in the programme promoting the marine profession "Adopt a ship" to the Coastal Vessel Traffic Management and Information Services Centre, built by Bulgarian Ports Infrastructure Company, where the children themselves became involved in the ship's maneuvers.
Bulgarian Ports Infrastructure Company pleased the young sailors with gifts for the first school day and a special embossed geographical map of Bulgaria, and the participants were presented the most valuable gift: plenty of children's smiles.
The celebration of 20 years of Vessel Traffic Services in Bulgaria, organized by BPI Co., continues until September 17, 2019, when the upcoming International Conference at Roslin Dimyat Hotel Varna will bring together representatives of the world maritime elite and dozens of Bulgarian experts.
The three-day event, organized by BPI Co., will end with the official opening of the decorative–plastic composition "Anchor", which will beautify the space near the VTMIS Coastal Centre - Varna.