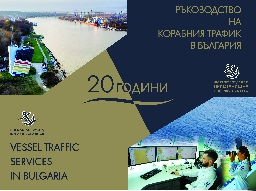 World maritime organizations are gathering in Varna on the occasion of 20 years of Vessel Traffic Services in Bulgaria
10 Септември 2019
Representatives of the largest Bulgarian and world organizations in the maritime industry will gather in Varna at the invitation of the Bulgarian Ports Infrastructure Co. The occasion is the official celebration of the 20th anniversary of the establishment of Vessel Traffic Management and Shipping Information Services in Bulgaria, which will last three days - from 15th to 17th September 2019.
The marking of 20 Years of Vessel Traffic Management in Bulgaria will start on September 15, 2019 (Sunday) with Kids Navigation Day. Students from St. Kliment Ohridski Secondary School - Varna, who participate in the program promoting the maritime profession Adopt a ship will tour Varna Bay with the sail training vessel Kaliakra. Afterwards, the children will visit the Vessel Traffic Management and Information Coastal Center in Asparuhov Park, constructed by the Bulgarian Ports Infrastructure Co., to get acquainted with the modern vessel traffic management systems implemented in our country.
On September 16, 2019 (Monday) on board the emblematic ship Kaliakra, the Bulgarian Ports Infrastructure Co. will welcome representatives of the world maritime community. Among the guests of the event are the Secretary General of the International Association of Marine Aids to Navigation and Lighthouse Authorities /IALA/ Francis Zachariae, representatives of the International Maritime Organization /IMO/ etc.
The culmination of the events on the occasion of 20 years of Vessel Traffic Management in Bulgaria will be an international conference which will be held on 17.09.2019 (Tuesday). The guests will then visit the Coastal Center - Varna and will attend the official opening of the decorative-plastic composition The Anchor of BPI Co. The stylish sculpture, made by Varna sculptor Kiro Yanev, will convey the eternal, memorable message of the anchor - symbol of the sea, of faith, of hope, of returning home.
Bulgaria is among the leading countries in digitization of port services. Since 2008, when the activity on vessel traffic management and shipping information services began to be implemented by the BPI Co., some of the most modern and high-tech systems have been implemented. They provide the opportunity for continuous exchange of information between the participants in the transport process, as well as throughout the logistics chain. At present our country is a world leader in the field of mastering and implementing innovative scientific and technical achievements in the field.